Your Top Team for Hydro Jetting Services
After years of daily use, plenty of soap, grease, hair, oil, mineral scale, and tree roots build up in pipes and sewer lines. The layers of buildup decrease the pipe's diameter and inhibit its ability to drain the wastewater. At Total Drain Solutions, our trustworthy experts provide hydro jetting services to restore your pipes and sewer laterals to their original capacity.
Hydro jetting refers to applying pressurized water to scour the interior of a sewer pipe, lateral, interior pipe, or drain. Hydraulic pumps add air to the water. The force of the pressurized water clears out stubborn pipe buildup.
How We Perform the Service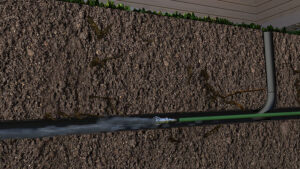 To perform hydro jetting, we start with a video inspection of the clogged pipe. This informs us of the obstruction's location, composition, and size. We insert the hose with the jet head into the pipe's clean-out, drain opening, or another access point. The process lasts for about one hour or less.
Benefit from Hydro Jetting
The hydro jetting service cleans pipes with water. As no chemicals are required, this process protects the environment and your pipes. We can hydro jet your pipes again and again without causing damage.
Issues We Address Through Hydro Jetting
Hydro jetting solves a variety of problems, including obstructions that result from: